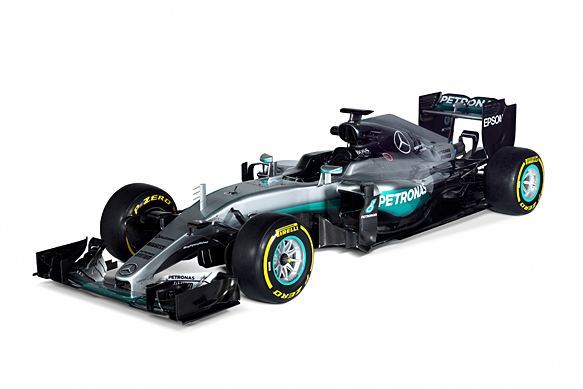 Although a few sneaky peaks were revealed from a 2 lap Silverstone test conducted on Friday, the first rendered images of the new car were published online yesterday. This morning the world press got to have a look themselves as the wraps came off the car in the Barcelona pit lane. Day 1 of testing lies ahead...
Wanting to evolve last year's highly successful W06 there are a few obvious visual changes. The most striking is the large airbox above the car. The central inlet will be feeding the engine's turbo compressor for combustion, but its the side inlets which are of interest. Mercedes has experimented with two separate inlets in previous years in a bid to provide extra cooling. It is likely that at least one of these provides additional cold air to the radiators and the ERS cooler, allowing the W07 to enjoy smaller sidepod openings than last year. Its also could be cooling the gearbox oil radiator. All the additional plumbing required for this big airbox means the engine cover is bit more bulbous.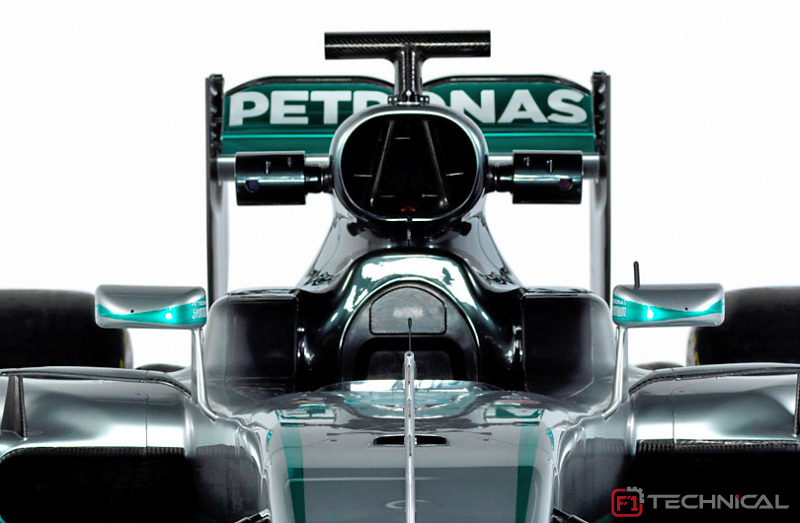 That airbox!
A clear vanity panel sits in between the front axle behind the nose suggesting either easy access for mechanics or an 'S duct' system. The first shots of the car testing this morning don't seem to show and S duct outlet but the car likely has the facility for one - they tested this system at the end of last year.
This could be enjoying a renaissance among teams in 2016, speeding up air flow and increasing aerodynamic performance.
As stated previous the large airbox allows the sidepod openings to be smaller and feature a deep undercut to improve air flow to the important rear diffuser. There are a few notable details and 'slots' cut into rear floor to direct air away from the turbulent rear wheels. As with every car revealed so far there are a pair of additional waste gate outlets either side of the main exhaust, this time located tightly together. This may help keep the turbulent gases from interfering with the rear wing.
As the car hits the track this morning we will keep you posted..