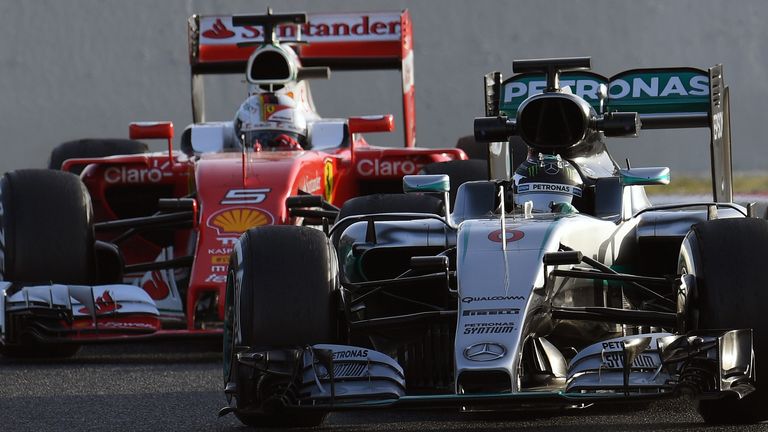 Who will come out on top?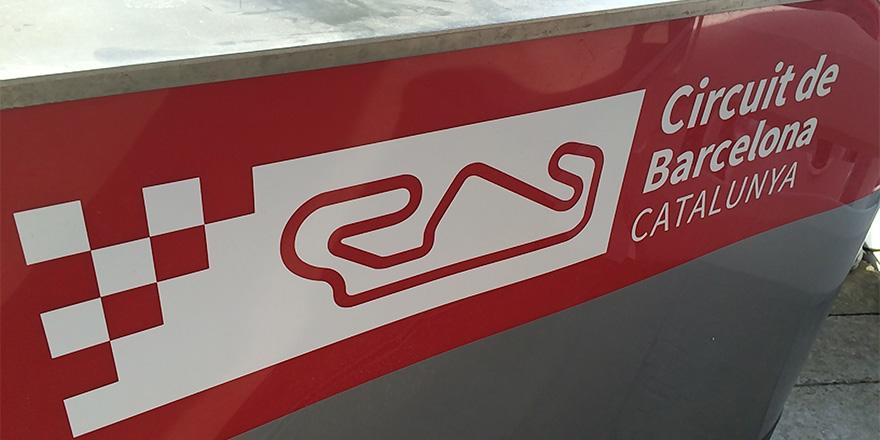 A wintry Monday morning welcomed the start of preseason testing at the Circuit de Catalunya. Not regarded as an exciting race venue the track is more synonymous for being an ideal 'test' circuit, thanks to its high speed flowing nature. Long corners allow engineers to see how their aerodynamics are performing, with cars often sprouting strange metal frames and 'blisters' for accurate measurements. Countless hours over the winter of computer simulations and wind tunnel work don't always translate to the real world. There are other fundamentals such as mechanical grip, engine performance, car set up and tyre performance. Its not a task that a lot of drivers relish, especially when they get lumped with a myriad of mundane tasks, like testing radios or a 100+lap run. The importance of getting a measure of your car, ironing out potential problems and putting in a good amount of laps is paramount. Here is a brief look at each team's progress over the first two days.
Mercedes
Too good to beat?
After another dominant display in 2016 Mercedes had solid ground on which to build their new challenger, the
W07
. ''#WeAreW07' was the mantra on twitter as the covers came off on Monday morning. Pictures released the day before showed a visually striking new airbox, perhaps the team enjoying the freedom to experiment in light of their advantage.
Mercedes barge boards
Hamilton achieved a mammoth 156 laps on day one, considerably more than next best Ricciardo's 87. Attaining high mileage straight out the blocks proved reliability and allow the team to begin experimenting with parts. As Rosberg emerged from the pits on Tuesday morning his car sported some interesting sculpted barge boards. Directing air towards the rear of the car as a conventional barge board does, the serrated edges allow portions of air to bleed through to reduce drag. A striking design very similar to boards tested by Lotus in 2013.
Hamilton was able to post a respectable 1.25.409 on day one and end second fastest. Rosberg ended the following day 2 seconds adrift of Vettel in 4th, but importantly achieved on medium tyres compared to the ultra soft compound of his compatriot's Ferrari. Mercedes is clearly not demonstrating its true pace at present but its certainly looking ideal so far for the Brackley outfit.
McLaren
The new McLaren MP4-31 is hoping to avoid the disaster last year
The big question mark hung over McLaren and specifically Honda. Would the engine be more powerful and above all reliable? Last year's opening day of testing saw Fernando Alonso complete just 6 laps which set a precedent for their disastrous season. After the debacle its become quite clear that Fernando Alonso will not stomach a similar year. Tuesday came the announcement that Honda boss Yasuhisa Arai would be forced into retirement. The strange timing opened up speculation that this year's engine could be another dud. Arai however was quick to explain that it is Honda's policy to automatically retire employees at 60 and he would aid a transitional period for new boss Yusuke Hasegawa.
Thankfully Jenson Button put in a solid 84 lap stint on day one which was more than achieved in the whole 5 days last year. Last season's achilles heal seemed to be the engine's deployment of harvested energy, robbing the car of around 150hp at the end of the straights. However Jenson seemed confident this has been ironed out. "
The deployment is so much better. I don't know if it is the same as the other guys have but it feels like it is. That is a big step for us. It is much better, very easy to understand the deployment and to play with it and it listens to change which is good. It is good to see all the hard work over the winter has paid off."
Another trouble free run for the team today ended with Alonso racking up 119 laps. Although over 3 seconds adrift of Vettel's fastest time its clear the team are focusing on achieving much needed reliability.
Ferrari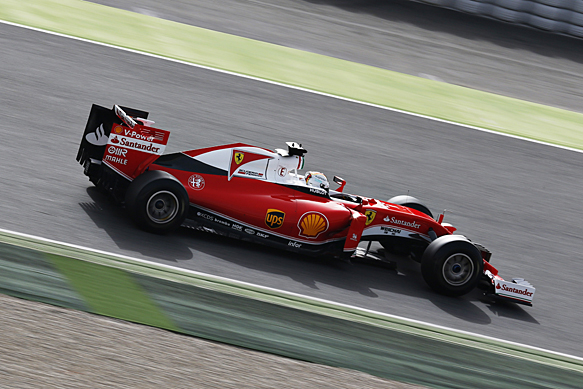 Vettel topped the time sheets but will it be enough?
The Marenello squad were as secretive as ever, with team branded boards concealing their garage entrance.Vettel ended both days on top of the time sheets, opting to run in the car consecutively before teammate Raikonnen takes the helm on tomorrow. Monday saw him 0.470 seconds clear of Hamilton on medium tyres. His 69 laps were however completely dwarfed by the Mercedes driver's 156. It is common knowledge that Vettel is obsessed with fastest laps so we can't look into this pace too much at present. However with much hype over
this year's car
Ferrari fans will be hoping this pace is genuine and upheld when Mercedes start to show their hand.
"The car is a step forward, it was the first proper day and it was good to get some laps and a first feel for the car. The first impression was very positive. It's better to be first in one month's time. It's better than being last but it's not really important." -
Vettel
Tuesday saw the team swapping from mediums, super-softs and then ultra-softs to then post the fastest time 1.22.810. A longer run in the afternoon saw Vettel chalking up 126 laps before before pulling off track 5 minutes before the end of the session and bringing out the red flag.
Williams
A few niggles kept the new FW38 in the garage for a period of time before it was able to complete a run of 80 laps and set the 4th fastest time. Valtteri Bottas wanted to make it clear that the team was "not focusing on performance yet" as it wanted to tick the boxes of reliability and understand the car's aerodynamics. The team is hoping to claw back ground lost to Ferrari this year and the signals coming from the red garage suggest this could be difficult.
Bottas was back in the seat on Tuesday with a solid run of 134 laps. He will pass the baton to Felipe Massa for tomorrow's running.
Red Bull
With their striking matt coloured paint scheme, Red Bull were hoping their 2016 challenger was going to go as well as it looked. With the engine contract not signed until the eleventh hour completion of the RB12 was delayed. It will be of some consolation that Daniel Riccardo finished both days in the top three with relatively trouble free running.
After a steady 85 laps on Monday, Riccardo described his Renault engine (re badged as sponsor 'Tag') as "
the same as last year
" and apparently that "
isn't a bad thing, I think on day one it's a lot better platform to work from than what we had this time last year.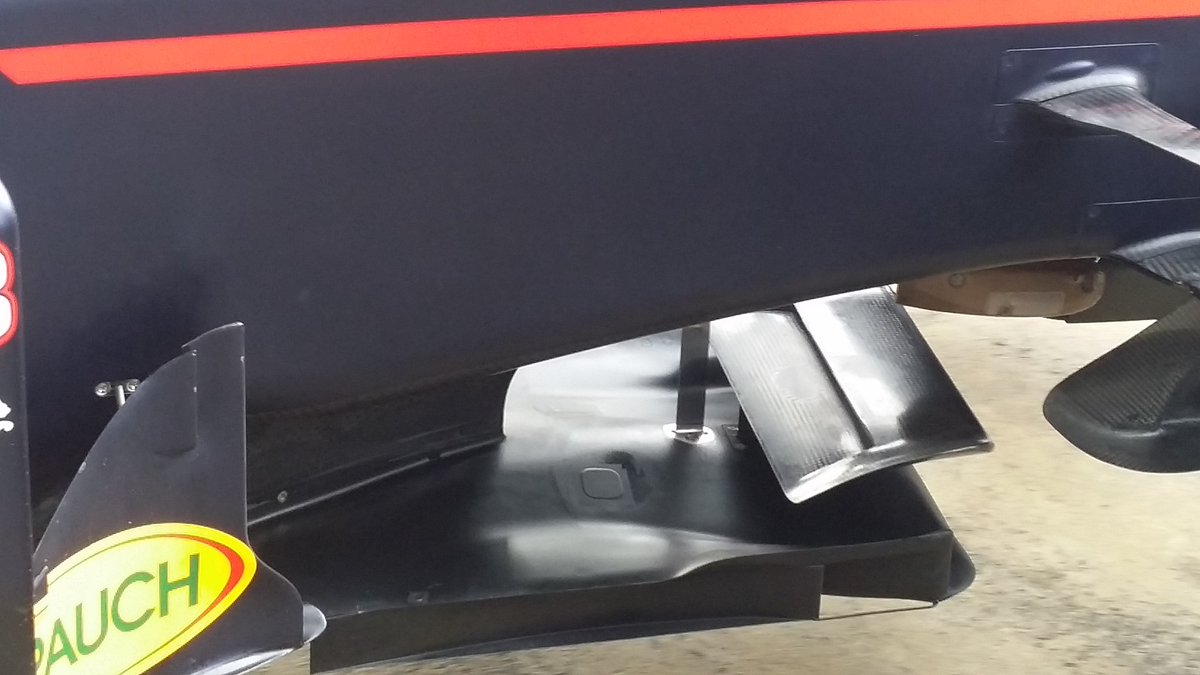 Red Bull floor detail
There wasn't any whiplash or anything like this... but I'm a bit happier and it's a good start, it's probably all we can ask for, for now."
One can only think as 'whiplash' a term to describe the once poor drive ability of the Renault engine. While the car might not be suitable for fraudulent insurance claims it certainly has some interesting aerodynamic details. A front splitter sprouted out above the front of the floor caught the eye of
ScarbsF1
.
Force India
The Silverstone based team launched their VJM09 on Monday just half an hour before testing began. Technical Director Andrew Green was quick to point out the fact that
"with the regulations likely to change for 2017, it didn't really seem like an efficient use of our resources to start from scratch on a project that would have such a limited lifetime."
Though the VJM08 B spec car of last year may have had reasonable pace, this statement does seem like a potential cop out, suggesting a stepping stone to their 2017 effort. This could be risky with rivals Toro Rosso getting their hands on Ferrari power this year. Development driver Alfonso Celis debuted the car on Monday and clocked and lap time of 1.26.298 on the soft compound, just 1.359 shy of Vettel's fastest lap. Perez further cut the gap down to the Ferrari to 0.840 seconds and notched 101 laps.
Sauber
Sauber were not able to prepare their new car in time for Barcelona testing, so ran their 2015 C34. Although data will still be gained this is a wasted opportunity to get some much needed track time. Swede Ericsson ended his days 8th and 5th in the time sheets. We look forward to seeing the new car on track next week.
Renault
Jolyon Palmer's Renault debut got off to a shaky start on Monday with the new RS16 suffering from software problems. The day ended with 37 laps on the board and languishing at the bottom of the time sheets. With the car not able to get more laps under its belt Palmer described the whole experience was as 'painful'. Tuesday wouldn't get much better with the car retiring after 42 laps, the least of all the runners with turbo issues. Lets hope the Enstone team have better luck tomorrow.
Newman Haas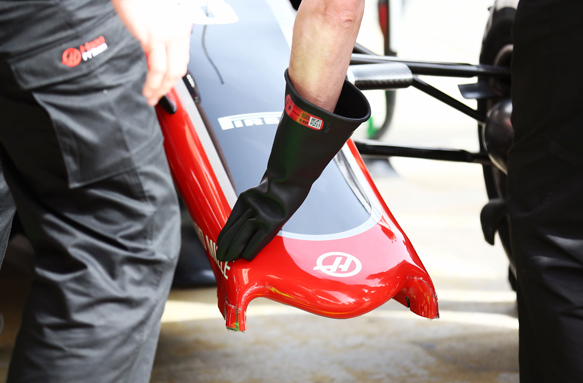 Front wing failure bought the day to an end
A solid, impressive debut for the American team running Ferrari parts. After only 34 laps on day one Romain Grosjean's front wing detached from the car and bought the day to an early end. Newman Haas bought his refreshing American motorsport openness to the issue with this insight:
"On the track, with the downforce and the vibrations, that bond [between materials} was not proper, it separated, and the aluminium just pulled out from the nose, which then let the wing go underneath the car, it ran over it and broke into many little pieces. So they took the two little down struts where the aluminium is, they put some straps around them, and then placed two screws perpendicular to the axis. Instead of having screws that are being pulled straight down, they are now perpendicular. That's the fix right now for that. Eventually we'll have to come up with some other way of bonding the aluminium to the carbon fibre."
Undeterred but this Mexican Esteban Gutierrez would complete 79 trouble free laps and end the day an impressive 6th on the time sheets.
Toro Rosso
Those sidepods!
A switch from Renault to Ferrari power this year meant some late changes to design for the STR11, which debuted for the first time on Monday. In its solid dark blue paints scheme before its official launch next Monday the car was described by Sainz as suffering from 'many compromises'. Despite this the car featured an extremely skinny sidepod profile, possibly from enjoying the more longitudinal layout of the Ferrari power plant.. It is now understood that the team will run a 'B Spec' model after the official launch with considerable aerodynamic changes. One can view this week as a shakedown and attempt to integrate their power unit. A gearbox problem bought day one to a premature end after some steady pace. Vestappen stopped on track on day two, but was able to go on to complete a decent 121 laps.
Manor
The new MRT05 broke cover on Monday morning with young Mercedes protege Pascal Wehrlein ending the day 9th fastest . With a Mercedes power unit and Williams developed rear end the F1 minnows have big hopes for 2016. Wehrlein had to return to the pits after just 8 laps due to a late delivery of parts, but was back out to complete 54 laps. Day two ended with a respectable time of 1.25.925, just over 3 seconds off Vettel's best.
The MRT05 on track
Session Times
Monday

1. Sebastian Vettel Germany Ferrari-Ferrari 66 laps 1m 24.939s
2. Lewis Hamilton Britain Mercedes-Mercedes 137 laps 1m 25.409s
3. Daniel Ricciardo Australia Red Bull-TAG-Heuer 65 laps1m 26.044s
4. Valtteri Bottas Finland Williams-Mercedes 52 laps 1m 26.091s
5. Carlos Sainz Spain Toro Rosso-Ferrari 55 laps 1m 27.180s
7. Marcus Ericsson Sweden Sauber-Ferrari 71 laps 1m 27.555s
6. Jenson Button Britain McLaren-Honda 63 laps 1m 27.691s
8. Romain Grosjean France Haas-Ferrari 18 laps 1m 28.399s
9. Alfonso Celis Mexico Force India-Mercedes 38 laps 1m 29.406s
10. Pascal Wehrlein Germany Manor-Mercedes 30 laps 1m 29.591s
11. Jolyon Palmer Britain Renault-Renault 21 laps 1m 31.351s

Tuesday

1. Sebastian Vettel Germany Ferrari-Ferrari 126 laps 1m 22.810s
2. Daniel Ricciardo Australia Red Bull-TAG-Heuer 112 laps 1m 23.525s
3. Sergio Perez Mexico Force India-Mercedes 101 laps 1m 23.650s
4. Nico Rosberg Germany Mercedes-Mercedes 172 laps 1m 24.867s
5. Marcus Ericsson Sweden Sauber-Ferrari 108 laps 1m 25.237*
6. Esteban Gutierrez Mexico Haas-Ferrari 79 laps 1m 25.524s
7. Valtteri Bottas Finland Williams-Mercedes 134 laps 1m 25.648s
8. Pascal Wehrlein Germany MRT-Mercedes 71 laps 1m 25.925s
9. Fernando Alonso Spain McLaren-Honda 119 laps 1m 26.082s
10. Jolyon Palmer Britain Renault-Renault 42 laps 1m 26.189s
11. Max Verstappen Netherlands Toro Rosso-Ferrari 121 laps 1m 26.539s