The #19 and #18 Porsche cross the line
The motorsport Gods cast light at Le Mans this weekend. A trio of drivers who hadn't been gifted with the opportunities or money of their compatriots shared the seat of the winning Porsche 919, bringing the manufacturer its first top class win in 17 years. Nico Hulkenberg, who many believe has never had a car in F1 capable of delivering the results his skills deserve, took the chequered flag to a sell out crowd at le circuit de la Sarthe . But if it wasn't for the stellar performance of British driver Nick Tandy and kiwi Earl Bamber this record wouldn't have been possible.
Porsche's first win in 17 years
The win granted Nick Tandy the honour of the first British winner at Le Mans since 2003. Nick began his climb to the top of motorsport by following his older brother's Joe route into the unconventional working-class world of Mini Stox racing. Both himself and Joe enjoyed success winning National and regional races and titles. Progressing onto Formula Ford Nick's talent was further recognised, but more often than not a lack of money bought performance handicaps. To his aid his brother Joe with a fresh engineering degree formed 'Joe Tandy Racing' and produced competitive cars for his brother in Formula Ford and F3. Unfortunately the good times were about to come crashing down when Joe driving a BMW 5 series collided with a van at a junction in Bedfordshire. It proved fatal for both himself and his to-be brother in law in the passenger seat. Nick vowed to continue on and 18 days after the incident scored the team's first win in F3 with a dominant performance at Rockingham. An opportunity to race in the German Porsche Carrera Cup lured him to sports cars, scoring 2nd place in his first race with no testing experience. Success followed and in 2013 he was signed to the Porsche factory team. His performances and loyalty to the Porsche family won him his drive this year in the third Porsche 919 Le Mans racer.
Nick Tandy began his racing in MiniStox
Of course many of you will be aware of the predicament of F1 racer Nico Hulkenberg. Highly rated by many in the sport, Nico lost his opportunity for a top team contract to Kimi Raikonnen for the 2014 season. His lap times in comparison to team mates speak for themselves, but Ferrari favoured their previous World Champion Kimi. For me and many that was not a wise decision. On his good days the popular bad boy of F1 Kimi has amazing talent, but since getting battered by his team mate Massa in 2008 has become a bit of a spent force. To Ferrari however a driver consistently able to challenge their lead man Vettel wouldn't be welcome.
Nico continues to campaign on in F1 driving the inferior machinery that is the Force India. Although this huge Le Mans win will further raise his stock value in the sport, could it entice him to race in sports cars full time? With Formula One being slagged off left right and center on social media with Mercedes domination, quiet engines and boring races of recent a factory drive with Porsche seems tempting.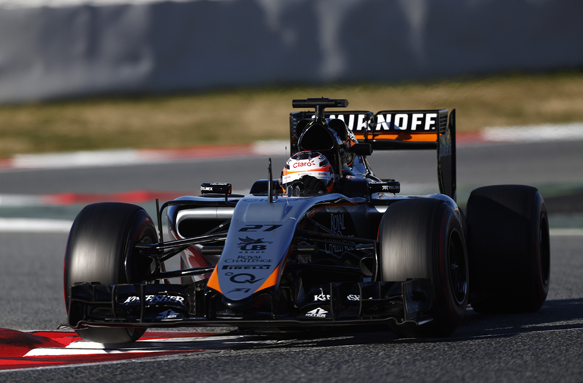 Will 'Hulk' be tempted out of F1?
An exciting Le Mans this year has only raised the World Endurance Championship's profile and that unbeatable winning feeling might have stirred something inside Hulkenberg. No one wants to spend their years racing mid field machinery in F1 so could this be a tipping point?
And lets not forget the third driver of the winning car, New Zealand's young Earl Bamber. Coming through the ranks of the expensive world of single seater racing on a tight budget, the kiwi took the same decision as Tandy to move to the comparatively cheaper world of sports car racing. Winning the Porsche Carrera Cup Asia in his first season in 2013 proved his credentials and another year of Porsche racing followed. Signed up as a works factory driver for Porsche this year at the age of 24, he was gifted given the opportunity to race at Le Mans this year with Hulkenberg and Tandy in the #19 Porche 919. His good friend and fellow New Zealander Brendon Hartley drove the lead Porsche 919 #17 car this year with Mark Webber and Timo Bernhard.
Sun rises at Le Mans
At what of Mark Webber, the man favoured to lead Porsche to victory this weekend at Le Mans? During the evening young kiwi Brendon Hartley made the a mistake of not slowing down enough under double yellows in the new 'slow zone' and so the #17 Porsche was penalised with a one minute penalty. This was left for Webber to serve after jumping into the seat shortly after. This took the car out of the race and some very quick laps by Nick Tandy in the #19 Porsche bought his car into contention. The chasing #7 Audi lost its bodywork requiring pit repairs and the only other threat from the team's #9 car ended when a front driveshaft required changing. Earlier in the race Loic Duval's #8 Audi had also suffered bodywork damage when clashing with battling GT cars on the circuit, costing 2 minutes and bringing it out of the battle at the front. This would be the first time the German marque had lost Le Mans since 2009, after a dominating run of 12 wins in the last 15 races.
The polesitter and third Porsche dropped down the order when Neil Jani and Romain Dumas both had a copycat lock ups bringing them off the track at the end of the long Mulsanne straight. Last year's World Endurance Champions Toyota continued to struggle with a lack of pace and were not in the same league as the Porsche and Audi cars all weekend. The best placing Toyota was the #2 of Alex Wurz, Mike Conway and Stephan Sarrazin who were able to salvage a 6th place out of Audi's issues.
Nissan struggled with its radical concept
Nissan's radical GT-R Nismo's race was already played down as a test session rather than a challenge for glory this weekend, with the cars regularly visiting the garage to keep them going. The front wheel drive car struggled with traction out of the corners and a scary moment ensued for Exeter boy Harry Tincknell - loosing his front bodywork and lights in the darkness of night. It was the only car to cross the chequered flag, be it unclassified for being too far back.
In other classes the KCMG Oreca of Nicolas Lapierre, Richard Bradley and Matt Howson led a convincing victory in LMP2 after stopping on track at one point with reliability issues. The GT class was won by the loud roaring Chevrolet Corvette of Oliver Gavin, Tommy Milner and Jordan Taylor. Towards the end the Ferrari 458 Italia of Gianmaria Bruni took the lead only to drop to third after a heroic gearbox repair, with Italian mechanics pulling out and replacing individual gears in 45 minutes.
A historic Le Mans 24 Hours certainly bought a refreshing taste to motorsport after a few less than exciting Grand Prix races in recent months.