The season is fast approaching and sedate online car launches are hitting the headlines. Gone have the days of spice girls and crowds at swanky venues, today's F1 climate seems to only pay for computer enhanced backdrops and awkward pauses.
Ferrari SF-16H
Maurizio Arrivabene presented the 'SF-16H' in what looked like a dreary cold corner of a Maranello warehouse. A few fans with dodgy haircuts put questions to senior team members and drivers, at one point James Allison looking genuinely amused.
Someone should have turned the heating on
The car wore a quite revolutionary red and white livery, similar to that of their 1993 car. The feedback from fans online seemed positive but I think it looks a little too busy with amount of sponsor decals. It's V6 engine has half the cylinders of the 1993 challenger but considerably more power. As engines are the dominant factor in modern F1 Ferrari are keen to claw back the gap to the Mercedes teams. With 3 wins Ferrari were the only other team to win a race, and although confidently beating top rival Merc customer team Williams, they couldn't hold a torch up to Mercedes.
Fans with dodgy haircuts amused James Allison and Maurizio Arrivabene
In an effort to increase power this years engine features two intercoolers placed in the path of cool air in the left sidepod and above the fuel tank, replacing just one in the tight confines between the banks of the engine. This not only allows better cooling of intake air and increased performance, but the freeing up of space allows the engine to feature variable inlet trumpets. This system also run by Mercedes offers more precise control of that cooler compressed air to mix with fuel and therefore increased efficiency. The MGU-K motor is now conventionally relocated to the left side of the engine instead of behind, allowing a thinner rear end and tight coke bottle shape. All this is quite a departure from the 2015 layout and the most revolutionary part of the new car.
Relocation of components thanks to Giorgio Piola
Another significant step is the reversion back to the conventional push-rod suspension set up at the front of the car. Ferrari have pioneered their 'pull-rod' system for the last four years which can potentially offer better aerodynamic performance at the cost of suspension quality. But abandoning this and making the front end more positive and drivable will favour both Vettel and Raikonnen especially. Both drivers enjoy planting the nose into a corner and rotating the rear around with the throttle.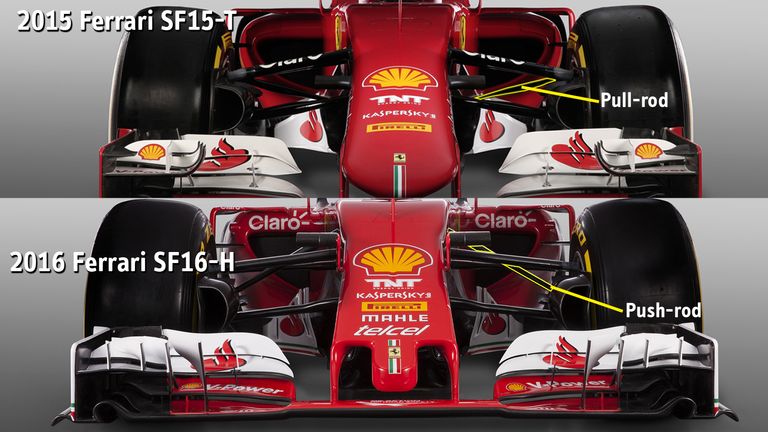 What looks like a vanity panel sitting on top of the nose and in line with the front axle looks like it may be hiding an 'S Duct' system. Pioneered by Ferrari in 2008 this allows air from under the nose to be channelled to the top of the car, speeding airflow up in the process and increasing downforce. Mercedes tested their car with this concept at the end of 2015 and what looks like an outlet on the nose was taped over at their 'TV demonstation' this week at Silverstone.
All of this seems an ambitious effort to produce something revolutionary and take the fight to Mercedes. As testing starts tomorrow we may begin to get some indications if these key features are reliably working in unison together to produce a stellar package.
McLaren MP4-31
2015 was a hugely disappointing year for the Woking squad and their new Honda partnership. Specifying a challenging 'size zero' engine layout Honda failed to meet it with a competitive or reliable engine. Not even able to deploy enough harvested energy down a long straight the car was at a significant disadvantage. And that was while it was running.
Rumours in the Spanish press suggest that the Honda is significantly more powerful but lacking in reliability. Whether these are reliable in themselves time will tell. There is no bones about this being a hugely important season, with very vocal critic and star driver Fernando Alonso likely to jump ship if things continue down the same path.
Looking at the rear of the car the McLaren continues with its 'size zero' philosophy for its Honda power unit. While the Japanese are known for not turning back, a bigger turbine for this year's power unit should help solve turbo performance issues. The rest of the car is visually very similar to last year with conventional push rod suspension. The rear mounting points of the top wishbones have been moved lower and steering arm repositioned. This suggests a quest for further aero gains. The car retains an S Duct nose and a blown front axle as shared with the Ferrari. At the rear with its new for 2016 'waste gate exhausts' to improve sound, the central exhaust is intersected by the rear wing mount. This acts to stabilise the wake of hot exhaust gases exiting the engine.
All this tinkering will be in vain unless that power unit has turned a significant corner.
Renault RS16
The striking livery of the RS16
Is this the year were team Enstone escape the shadow of financial woes and lack of development under the new guise of Renault? With an all new driver line up and renewed relationship with French manufacturer its could be time to turn over a new leaf.
A striking black and yellow livery adorned the RS16. However technical director Nick Chester and managing director Cybil Abiteboul were quick to point out that this was simply a livery car and therefore not a representation reality. Therefore we will have to wait until testing to take notice of any potential innovations.
Red Bull Livery Launch
The matt red of the paint scheme will certainly offset Ricciardo's huge white teeth.
Red Bull went through the trouble of actually having an event in London, however it also wasn't really a car launch. Last years chassis was rolled out to display a new striking livery for next year. The strong matt colours have won me over but it won't make the car faster unfortunately. In limbo with an engine contract team principle Chistian Horner has already played down the teams chances this season, expecting a 'less competitive' first half. Using Renault engines re badged under their sponsor's name as 'Tag' the team has yet to confirm what engine will be in the back in 2017. After being hugely critical of Renault last year they may want to still coax this relationship back into fruition. But will Renault want their flag flied by this customer team or the works team?
The highly rated Ilmor engineering will be assisting Red Bull with engine development. However the statement from Christian Horner seems to indicate this development will be initially slow compared to Renault's own project.
Williams FW38
The Grove outfit unveiled its 2016 challenger on Friday through its social media channels. The car again looked similar to last year but with a few clear visual features. The sidepods and engine cover are reshaped suggesting new packaging demands for their Mercedes power plant.
Last year saw the team slip from second to third in the championship. Chief Technical Officer and Williams legend Pat Symonds was quick to explain this year's aim. "It is no secret that the low speed performance of the FW37 didn't match its high speed performance so a lot of time was spent looking into why this was and subsequently making changes, which we hope will improve the situation."
As well as poor slow speed performance, last years car struggled in the rain. A revised front suspension set up suggests the team trying to combat this. Some details to the floor of the car, with some details around the leading edge and flicks around the rear wheels should help maximise air flow performance.
We look forward to the first test this week at Barcelona. Stay tuned!