It seemed only a matter of time before the two Mercedes team mates Rosberg and Hamilton were to make controversial contact on the track. After a year of tensions building between the former karting friends and team mates, an incident indeed did occur this weekend that has seemingly sent Mercedes into disarray.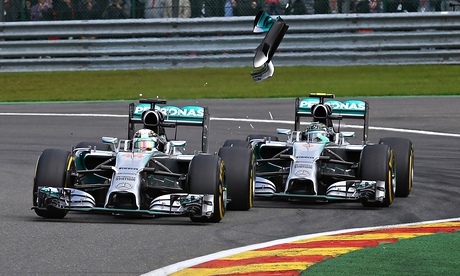 Rosberg's front wing end plate flies through the air after contact
On only lap 2 after a nail biting start, Rosberg was lining Hamilton up for a pass at the end of the long Kemmel Straight. Enjoying the advantage of a slipstream, Rosberg positioned his car for a move around the outside of Hamilton into the right-left of Les Coombes. Rosberg knew at the time that a pass at this stage was quite critical, or he risked Lewis steaming away into the distance.
As he positioned his car on the outside of Hamilton at the corner entry, he had enough space to get the front of his car alongside. However as Hamilton took the normal racing line into the corner, Rosberg fell back slightly. Within a matter of a seconds it was obvious that a move was off the cards. For whatever reason Rosberg chose not to come off the throttle. His right front wing end plate met the right rear tyre of Hamilton causing a puncture. As Hamilton limped his car to the pits, Rosberg also headed to the pits at speed to replace his damaged front wing and recover to 2nd place. Hamilton was less fortunate, his tyre had delaminated and continuously battered the floor of the car, robbing him of downforce. After spending the majority of the race at the back of the field with no performance to chase for points, he decided to retire before the end of the race and save his engine.
An incensed Mercedes team could not believe its drivers would collide so early in the race and the team be robbed of a potential one-two, Niki Lauda and Toto Wolff calling it 'unacceptable risk'. And how can you blame their response, from a team point of view? Mercedes has allowed their drivers to race hard against each other all season, but with the absence of team orders and the driver tensions after Monaco, some could argue they only have themselves to blame.
Going into this weekend it was clear from Jean Todt that after much criticism, the FIA would be taking a less intrusive approach to on track incidents. Fans have been critical of racing incidents often ending up in penalties and a fear that such an environment is not healthy for risky over taking. But was this a racing incident? And if not have the fans and the FIA somewhat shot themselves in the foot?
What is a fact is the harsh reality that this was no way a fault of Lewis. He was fully entitled to take his racing line as per the code of conduct of motorsport. What also is a fact is that even if there was no intention,
as in Monaco
, Rosberg's actions have cost Hamilton valuable world championship points. In my mind that is unfair and unjust, and indeed why we have such rules in the first place. When it is so clear who is at fault and its cost a championship contender a race, a penalty needs to be applied and it does not classify as a racing incident.
Better days, karting as team mates
Was Rosberg's actions intentional? It may be hard to see that Rosberg hit Hamilton with malice and calculation a-la Schumacher on Villeneuve in Jerez 1997. Hamilton later revealed on Sunday night at a post-race crisis meeting at Mercedes "
[Rosberg] said he did it on purpose. He said he could have avoided it. He said 'I did it to prove a point
".
There is a difference between intention and aggression. With the likely hood of damage to his own car, its unlikely that Rosberg 'intended' to make contact with Hamilton. However Rosberg may 'have a point' to prove by not lifting and not giving an inch to Hamilton, whatever the circumstance. Even if that circumstance means contact. With team orders now on the horizon for the two drivers as the season hots up, this inter team war flames are being fanned yet again..